About Us
Narasimhaiah Srinivasaiah (Simha)
MBBS, MD, MRCS (Eng, Ed, Glas, Ireland), (DNB-Ind), FRCS, FEBS.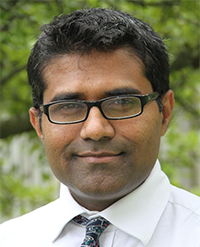 NARASIMHAIAH S is a Laparoscopic Gastro-intestinal surgeon with interest in surgical oncology. He is based in Bangalore. He is n associate Professor of Surgery, Apollo Hospitals. He heads the colorectal services for Karnataka region. He is a senior consultant colorectal surgeon (Colorectal, Peritoneal & Pelvic Oncology). He is a Laparoscopic & Robotic Surgeon @ Apollo Institute of Colorectal Surgery (AICRS), Bangalore. He is also the director of Health Sciences Park (HSP) – Bangalore. He has his humble roots from a family of farmers in Chikkaballapur. Following his medical school, he moved to the UK. Basic surgical training in the North east of England was followed by academic research on Cancer health outcomes, translational research and psycho-oncology in Yorkshire. His higher training spanned over the regions in Cardiff and London. He is currently a senior specialty registrar at The Royal London Hospital, London. He holds memberships from the college of surgeons of England, Edinburgh, Glasgow and Dublin. A fellow of the inter collegiate board of surgeons (UK), he is certified by the European board of surgery. He has undertaken fellowships in France, Germany and USA. He is a recipient of number of awards and travel fellowships.
He is partnered for life with Anu, a software engineer and has daughter Kushi and son Sagar. He is passionate about natural farming, Horticulture and tropical forestry. He is a keen Orator and theatre artist. He has been associated with Dr. Girish Karnad during his days in MES College, Malleshwaram, Bangalore.
Project CANFRI is very close to his heart, since he believes in health education being the driver for our future health. Cancer is a major health care issue and prevention is the key for success.
"Education is the investment for future, Health education is the key to healthy future" – Simha.
Dr. Girish. T. S MBBS, MD ( Internal Medicine)
Senior Consultant Department of Internal Medicine, Bangalore Baptist Hospital
Girish T S, is a senior clinician at Baptist Hospital, Bangalore, since 2005. He graduated from Sri Siddhartha Medical College and research centre. Following his post graduation from Rostov State Medical University in the year 2002, he has worked in some prestigious organisations such as Christian Medical College Hospital, Vellore, India & Vydehi medical college and Hospital.
He is actively involved in treating various ailments such as Diabetes, IHD, infectious diseases, acute medical care and various medical conditions. He is also intensely involved in teaching undergraduate medical and postgraduate medical students. He has special interest in Infectious Diseases. He also has led the various committees of the Bangalore Baptist Hospital in taking the Medical Care to the next level. He is also the Secretary of Indian Medical Association, Bangalore North East Branch. Over the last decade he very much involved in treating marginalised, financially deprived patients of various sectors of the society. Project CANFRI, he believes, is a good opportunity, to pay his dues to the society of Chikkaballapur, from where he comes.